Fishing Reports
This page contains all current and past Shorefire Fishing Reports. Click on the "Read More" links to view a real images of the amazing fish being caught in the waters of Christmas Island.
Shorefire Report - Special for 2009
A Special Report from the March 2009 issue of Rod & Line magazine.  It includes a great article about Christmas Island, click on the read more link if you want to read the full article.... 
November 2008 Dave Nielsen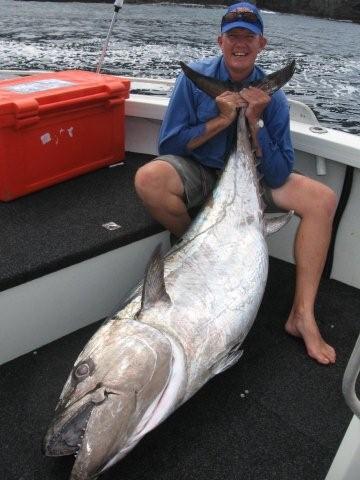 Dave Nielsen is an extremely keen angler. He works for the local shire during the week, but on weekends you can bet that Dave will be out on the water before the sun rises.

It was on one such Sunday that Mark ...
November 2008 Chris Lee

After experiencing the best GT trip of the 2008 season, Chris Lee returned in November 2009 keen to once again catch big GTs and also to...
November 2008 Pete McCarthy

An old Shorefire regular in Pete McCarthy, returned for a fleeting visit in November. Accompanied by Rob Grayson and Phil Blake, Pete flew in on ...
October 2008 Chris and Gene

October is regarded as a prime fishing month on Christmas Island and this year it was Chris and Gene from Singapore who fished the week of the full ...
October 2008 Mark and Family

A late cancellation presented us with a 2 week opening over the prime October new moon period. At short notice Mark's kids Joh and Julie decided...
September 2008 Nick and Brendan

Bluewater Melville store manager Nick Bailey and friend Brendan Dolphin joined us over the September full moon for what was to be some great popping.
September 2008 Terry and Jason

Friendly rivalry returned to Shorefire when Terry Moore and son-in-law Jason Plumridge joined us for a week in late September. Trolling for billfish is not...
September 2008 Thomas and Ole

Thomas Munksgaard and friend Ole became our most travelled clients when they came all the way from Denmark to fish at Christmas Island. With all of our species being new to the ....
August 2008 Matsutani

August saw the return of two of the best performed anglers from our 2007 season in Kenny Tan and Matsutani, accompanied by first timer Lip Song. While Matsutani ....
August 2008 Josh Bruynzeel

We certainly are finding that our anglers are prepared to travel from far and wide to fish Christmas Island. West Australian fisherman Josh Bruynzeel currently...
July 2008 Stanley, Kenny, Jacky

Singaporean anglers Stanley, Kenny and Jacky joined us in early July, choosing to take just 3 days on the boat and spending the rest of their week exploring the....
July 2008 Robin, Vince, Stefan

Cool water greeted Robin, Vince and Stefan as they arrived for a weeks fishing in mid July. The low water temp meant that GTs were not as active...
July 2008 Fernando Gutierrez

On C.I. July is not usually to be remembered for calm seas, come to think of it not too many months are, so Fernando Gutierrez must be....
June Jayson Gerde

First time GT angler Jayson Gerde joined us for a week in late June. Jayson proved to be a natural at working the big lures required to catch quality GTs as he quickly racked ....
June 2008 Kim Hughes

Former Australian cricket captain Kim Hughes, his son Brad and friend Bruce Burns have just completed a weeks fishing on Christmas Island. The trio are Cocos Island...
May 2008 Barry and Brad

Father and son team of Barry and Brad Nelson were keen to get fishing as quickly as possible, hence an early start to the 2008 season. This time...
November 2007 Andreas & Manfred

The final group for the 2007 season were German anglers Andreas and Manfred. The weather for November was unusually windy, which ....
November 2007 Roger Tours

Renee Winter and Sascha Taube were the first German anglers to try their hand at popping and jigging the waters of Christmas Island. Being very keen to ....
October 2007 Joff and Chris

Our good friend Joff Weston returned in October for his annual popping overdose, this year accompanied by GT trajic...